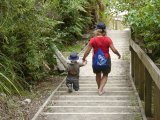 Your developers deserve the best!
Training is an important part of keeping your developers up to speed with the latest tools and knowhow, and giving you the edge on the competition! We can provide a range of training, tailored to your specific needs, in areas such as Agile Development Practices, Continuous Integration, Continuous Delivery and Test Automation.
If required, we can also provide ongoing assistance, in the form of coaching or mentoring, to ensure that your team stays on track!
Our Agile Java Development Practices Workshop is a best-of-breed training course covering essential agile development practices and tools. The workshop gives students practical experience across the full scope of agile development activities, including requirements gathering, acceptance test driven development (ATDD), behavior driven development (BDD), test driven development (TDD), agile architecture and design, clean coding practices, continuous integration and agile collaboration.
Automated testing techniques are covered in detail in this workshop. Indeed, learning how to write more effective tests is an excellent way to write better designed, more maintainable and more reliable code. It also helps keep development focused on the real requirements, resulting in a higher quality product for the end user. These are skills that every Java developer needs to master.
Our all-new
Advanced Agile Requirements Practices Workshop
is an exciting on-site workshop for the entire team. Learn how your team can deliver valuable features faster and more efficiently, using Advanced Agile and Lean Practices to build a better synergy between BAs, developers, and testers. The results are faster delivery, higher quality products, more accurate reporting, satisfied users and lower maintenance costs.
We also run an intensive 1-day workshop on Automated Web Testing with WebDriver and Thucydides, both as a public course and as an on-site workshop. This is a great way to bring your team up to speed quickly with all the tricks and best practices around writing good automated acceptance criteria and regression tests with Thucydides.
The popular Java Power Tools Bootcamp covers a wide range of productivity-enhancing open source tools for your developers. This comprehensive hands-on workshop covers the latest best-of-breed open source tools and techniques for Agile Development in Java. Learn how to optimize your development process, hone your programming skills and know-how, and ultimately produce better software.
We also deliver the following modules as on-site courses, either individually, or grouped together:
The Java Power Tools Bootcamp (5 days): In its complete form, or customized to your particular requirements, this course is a comprehensive, innovative and hands-on workshop covering best-of-breed open source tools and techniques for Agile Development in Java. 
Fundamental Agile practices for Java Developers (3 days): This module covers essential Agile technical practices, with an emphasis on BDD and automated testing practices. Learn how to write more effective tests in Java using modern best practices such as Test Driven Development and Behaviour Driven Development, and in the process write better designed, more maintainable and more reliable code.
Maven 2 (2 days): More than a build scripting tool, Maven 2 is a build framework that can help you improve your development productivity and code quality, promote better software architecture, and improve team communication.
Build Automation and Continuous Integration (1 day): Learn how to set up an effective Continuous Integration environment that will reduce integration issues, improve code quality, and improve communication and collaboration between team members.
Introduction to Java (3 days): This course is a fast-paced grounding in the fundamental concepts of Java and Object-Oriented Programming, covering basic Java language features, as well as more advanced topics such as collections, exceptions, database access, with a special emphasis on good coding practices, unit testing and test-driven development.
Advanced Java Concepts (2 days): Following on from the Introduction to Java course, this course covers more advanced Java concepts such as Swing, Threads, XML and web services.
With Wakaleo, you will be trained by recognized domain experts. John Smart, principal consultant at Wakaleo Consulting, has a very active role in the Java community, and regularly publishes books and articles on Java and Agile Development.
In addition, Wakaleo Consulting can provide mentoring and coaching serviced tailored to your exact needs, in a number of fields:
Continuous Integration, Build and Release Automation, and Code Quality Best Practices
Test-Driven Development, Behaviour-Driven Development and other Testing Best Practices
Agile Development Practices
Test Automation and Acceptance Test Driven Development