John is a prolific author: he has published a large number of well-regarded articles on Java and Open Source topics, and is a regular contributer to sites such as Java.net, Javaworld, OnJava, DevX, and InformIT. Below you will find a list of these articles, which you may find useful for your own organisation.
Add a comment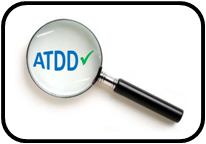 Acceptance Test Driven Development, or ATDD, is a technique that a growing number of teams are using to deliver more relevant and more useful software to organizations, with fewer defects and in less time to boot! This approach is also an effective way to reduce risk and increase visibility in large and complex projects.
Add a comment

Often, your new code replaces an older system whose data must be migrated to the new system. This isn't a process that gets a lot of thought, but it probably should. In this article, he shows how an iterative, test-driven approach can save you a lot of headaches later.
Add a comment

The Web Tools Platform (WTP) is a powerful set of Eclipse add-ons that make Web application development with Eclipse easier and faster. Take a look under the hood and see how it can help you.
Add a comment

Standards are so much easier to adhere to when your tools do it for you. Thanks to JAX-WS and its implementation in application servers like GlassFish, you can write web services as plain ol' Java objects, just by adding a few annotations. This article shows how it's done.
Add a comment

Want to provide maps in your web application? The Google Maps API is straightforward to call from Java, and with an Ajax-ian approach, you can make it extra user-friendly. This article shows you how to combine these approaches.
Add a comment

The best way to integrate in a hurry is to have been doing it all along. This practice of continuous integration is greatly helped by automated tools to check out and build your team's code on a more or less constant basis. Apache Continuum offers a free and open source tool to do continuous integration; This article looks at how it works.
Add a comment