A practical introduction to JavaServer Faces - get a jump-start into JSF!

JavaServer Faces, or JSF for short, is a powerful, industry-backed technology for building state-of-the-art dynamic web sites quickly qnd easily using Java.

The JSF Jumpstarter book is a short, tutorial introduction to JSF, suitable for JSF newbies. Wakaleo Consulting has now placed this book in the public domain - in other words, you can now download it for free!
Download the JSF Jumpstarter book now!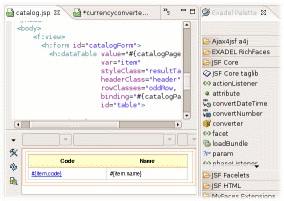 In a short 65 pages, this book teaches you how to build dynamic web sites in Java using JavaServer Faces, using a hands-on, practical approach. Little or no prior experience in web development is necessary (though a bit of Java knowledge would help). Using an easy-to-follow, tutorial style, you will learn how to use JavaServer Faces to build real-world Java web applications, including screens, navigation and business logic. Along the way, you will learn the key concepts behind JavaServer Faces.
In this book, you will learn how to:
Use the powerful and open source Exadel Studio Pro development environment to build your web sites quickly and easily
Construct JSF-based web pages with ease using the Exadel WISIWIG editors
Build, deploy, test and debug your JSF applications from within your development environment
And more!
You will also learn plenty of valuable real-world tips-and-tricks and best practices in the fine art of JavaServer Faces development.

John is also the author of Java Power Tools, which covers a range of open source tools designed to improve the development practices of Java developers in all parts of the software development life cycle, and in any size team or organization.


Download JSF Jumpstarter