Wakaleo Consulting is a Sydney-based consulting company that helps organisations optimize their software development process. We provide consulting, training and mentoring services in Agile Development Practices such as Continuous Integration, Test-Driven Development, Acceptance-Test Driven Development, Build Automation, Code Quality Practices and Automated Web Testing.
Wakaleo Consulting is also an active player in the Open Source Domain. Wakaleo Consulting CEO is author of Java Power Tools and Jenkins: The Definitive Guide, and founder of the open source Thucydides Automated Acceptance Test Library project.
Helping teams deliver more valuable software sooner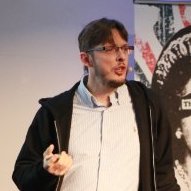 John is an international speaker, consultant, author and trainer well known in the Agile community for his many books, articles and presentations, particularly in areas such as BDD, TDD, test automation, software craftsmanship and team collaboration.
John helps organisations and teams around the world deliver better software sooner through more effective collaboration and communication techniques, and through better technical practices.
John is the author of the best-selling BDD in Action, as well as Jenkins: The Definitive Guide and Java Power Tools.
Very active in the Open Source community, John also leads development on the innovative Serenity BDD test automation library, described as the "best opensource selenium webdriver framework".
Learn what John has been doing recently on his updated website